Welcome to the Making Work at Home Work blog. Check back soon for updates!


Making Work at Home Work is a guidebook for entrepreneurial women designed to help them think about their business in a whole new way. It covers important topics such as developing a successful business philosophy, balancing time between work and family, setting realistic goals, and handling the challenges of being a home-based CEO. In addition to including her own experiences, Byers profiles a dozen other women with home-based businesses who offer their hard-won advice.
Learn more >>

How to Say No ... and Live to Tell About It: A Woman's Guide to Guilt-Free Decisions
In this transformational book, Mary Byers tackles the challenges of overwhelmed and overworked women, teaching them strategies for saying no in order to protect limited resources of time, talent, and finances.

A former "yes-aholic," Byers discusses how to say no graciously and without feelings of guilt as she offers tips women can use to evaluate commitments, priorities, and energy levels so they can realistically decide what to take on.
Learn more >>

The Mother Load: How to Meet Your Own Needs While Caring for Your Family
Motherhood is an intense, 'round-the-clock job that does not comes with scheduled breaks. But to stay healthy and happy, Moms need friendships, laughter, solitude and spiritual renewal.
How can you meet these needs while juggling your family responsibilities?

The Mother Load is packed with down-to-earth suggestions, spiritual truths and real-life advice to help you survive and thrive in your active family. You'll also discover special insights into achieving balance and creating more intimate relationships.
Learn more >>

The SOS for PMS: Practical Help and Relief for Moms
In her latest book, Mary explores an often frustrating topic, the symptoms of PMS, and offers practical advice and encouragement for mothers. Readers will find comfort in the stories shared by other moms, realizing that they are not alone in their struggles with PMS.

With this book, you will find suggestions designed to inspire healthier lifestyles, relationships, and daily choices for all women.
Learn more >>


Other Publications by Mary Byers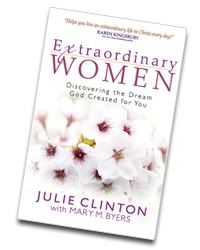 Extraordinary Women
With biblical illustrations, life examples, prayers, places for journaling, and time–sensitive chapters, Extraordinary Women explores how every woman can embrace purpose and delight and extraordinary living.

Discover and live God's dream for you while you release control to take hold of freedom. Let go of the past to embrace the future, making every day count. Create a strong marriage as you live your extraordinary life.

Insights from fellow Extraordinary Women speakers add extra motivation and encouragement throughout this great resource that combines practical with inspirational to help each reader discover how exceptional her heart and purpose becomes when placed in the Creator's hands.

Making Work at Home Work shows moms how to develop an entrepreneurial mind-set without sacrificing their families. It covers important topics such as developing a successful business philosophy, balancing time between work and family, setting realistic goals, and handling the challenges of being both "Mommy" and "CEO" while running a profitable home-based business. In addition to including her own experiences, author Mary Byers profiles real moms with home-based businesses who offer their hard-won advice.





Publication Details
Price: $12.99
ISBN: 978-0-8007-3275-2
ISBN-10: 0-8007-3275-8
Dimensions: 5.5 x 8.5
Number of pages: 224
Carton Quantity: 64
Publication Date: Apr. 09
Formats: Paperback